It's Official: Devil's Staircase Protected as Wilderness
President Trump signed into law today a multifaceted public lands bill that at long last creates the Devil's Staircase Wilderness Area in the rugged mountains of southwest Oregon's Coast Range, a designation FSEEE has sought for more than a decade.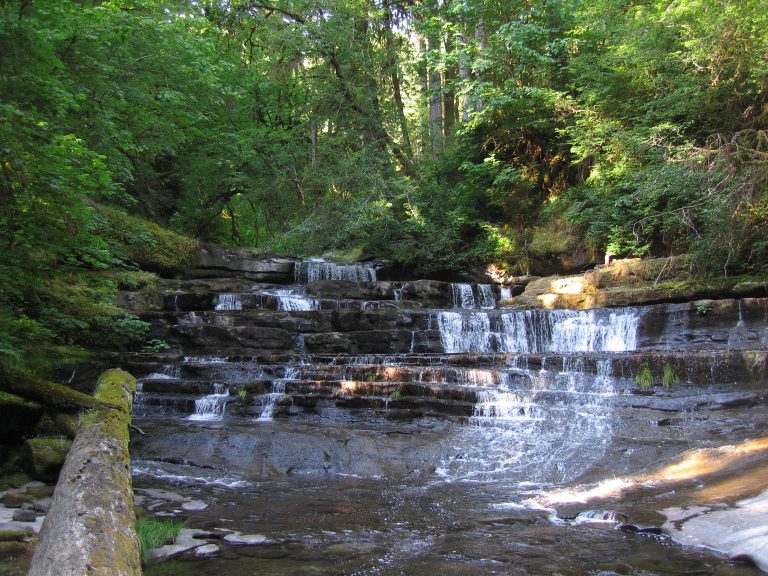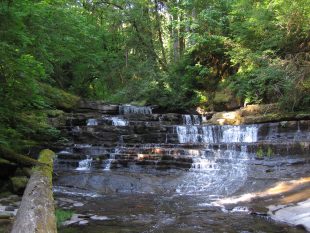 Yesterday, FSEEE Executive Director Andy Stahl participated in a podcast with Ore. Sen. Ron Wyden and others to celebrate the long-sought designation.
The new wilderness area, which will be jointly managed by the Forest Service and the Bureau of Land Management, lends permanent protection to more than 30,000 acres of spectacular old-growth forest that surround the falls.
No trail leads to the storied falls, which sluice over a series of steps formed by sedimentary rocks. Access requires an arduous, hours-long bushwhack through steep terrain and tangled vegetation.
Andy, who is among the relatively few who have visited the falls, described the area's splendor during the podcast, which was produced by the Salem Statesman Journal newspaper.
"It's as wild as wild can get," Andy said. "What I always take back from that area is green. Everywhere is green. The forest floor is green, the vine maple and the salmonberry and the huckleberry. It's all green."
Wyden, who has advocated for the wilderness designation along with fellow Oregon Sen. Jeff Merkley and Ore. Rep. Peter DeFazio, praised lawmakers on both sides of the aisle for supporting the move.
"There are certain treasures that we want to make sure are gonna be there not just for this month and next month but for our kids and our grandkids," Wyden said during the podcast.

Sometimes a little bit of arm-twisting can yield big results.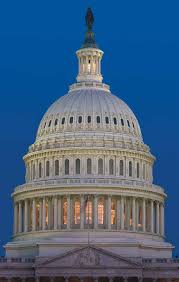 Earlier this year, the U.S. House of Representatives approved a version of the 2018 Farm Bill that would have opened wide swaths of national forests to clearcutting with little or no environmental review. Boosters of those provisions claim massive logging is needed to reduce fuel loads in fire-prone forests.
FSEEE fought back. We urged you to contact your senators and tell them that national forest management should not be dictated in a Farm Bill. Despite the assertions of Secretary of Agriculture Sonny Perdue, our national forests are not "crops."
Many of you did just that. And your senators listened.
On Monday, Senate and House negotiators released a compromise version of the Farm Bill that omitted those disastrous forest management provisions, and instead stuck closely to a Senate version of the bill. A 253-page explanatory document contained the sentence "The Conference substitute deletes the House provision" a whopping 64 times.
President Trump is expected to sign the bill into law in coming days, even though Perdue lamented "missed opportunities in forest management."
Many thanks to all of you who helped us turn back these damaging proposals.

Dear FSEEE Supporter,
This has been a trying year.
Those who care passionately about our public lands have endured a bevy of broadsides threatening the values we hold so dear. Attacks on national monuments, giveaways to private interests, efforts to undo bedrock environmental protection laws—the first months of the Trump administration and a Republican-controlled Congress have threatened five decades of environmental victories.
With your help, FSEEE will see our National Forests safely through this tumultuous time of Trump. With your help, we'll protect the brave public servants who stand up to their bosses in carrying out their duties of protecting our shared natural heritage for generations to come.
Please consider making a special year-end contribution to FSEEE. We need your help now more than ever.
Let me share with you some of our accomplishments in 2017, as all of us at FSEEE have fought tooth and nail to protect our public lands.
Stopping Inappropriate War Games
It's not easy to stop the U.S. Navy. But we're working hard to do just that.
For years, the Navy has tried to secure a special-use permit from the Forest Service so it can conduct high-tech war games on Washington's Olympic National Forest. Local residents and conservationists—including FSEEE—have fought the scheme from the beginning, arguing that the Olympic National Forest is no place for such training.
The Navy wants to park four "mobile transmitter" trucks at 11 locations around the National Forest, for as many as 260 days a year and as long as 16 hours each day. The trucks would shoot electromagnetic transmissions skyward and would be surrounded by yellow caution tape. Growler jets would fly overhead, trying to intercept the signals.
This summer, the Forest Service decided to grant the Navy the permit. FSEEE promptly filed a lawsuit challenging the decision.
We maintain that in approving the Navy proposal, Olympic National Forest officials violated their own land management plan. That plan states that before issuing a special-use permit, the Forest Service must first consider whether the activity can be accommodated on private land. Agency officials never did so.
That management plan, which is required by the National Forest Management Act, also directs the Forest Service to give priority to the public's interests and needs when considering whether to issue a permit.
We fail to see how driving high-tech transmitter trucks back and forth on public National Forest roads while jets roar overhead prioritizes the public's interest.
This isn't our first tangle with the military in the Northwest. Two years ago, we blew the whistle on Army plans to land attack helicopters in a wilderness area in Washington state as part of a training program. We helped stop that scheme. With your help we'll stop this one, too.
FSEEE absolutely understands that our armed forces need to train. But there are proper venues for such training. Again, the Olympic National Forest is not one of them.
Challenging Anything-Goes Wildfire Management
We're fighting another legal battle in Washington state that has implications across the West.
Two summers ago, officials with the Okanogan-Wenatchee National Forest approved a logging project that carved a 30-mile-long, 300-feet-wide swath through the Cascade Mountains. They said they had to do so to protect two small communities from a distant wildfire that would soon go out on its own. Summer was almost over and rain was in the forecast.
Rank-and-file Forest Service employees complained loudly.
"This is essentially … a ground-based timber sale without any best management practices to minimize resource impacts," wrote one fisheries biologist to her bosses. "Why don't we STOP and THINK and PLAN?!" wrote a botanist with the national forest. "There is NO emergency."
The Forest Service maintained that there was, indeed, an emergency. The logging happened anyway.
FSEEE filed a lawsuit arguing that the agency violated federal law when it approved the line. We maintain that the Forest Service must develop general guidelines that outline proper and improper actions when fighting fires. Other agencies, including the National Park Service, have such guidelines. The Forest Service should, too.
This summer, a U.S. District Court judge ruled against FSEEE in the lawsuit. We've been down this road enough times, though, to know that one adverse ruling does not spell the end of the legal process. It was an easy decision to appeal the lower court's ruling to the Ninth Circuit Court of Appeals. A decision is expected in 2018.
We take pride at FSEEE in filing lawsuits only after all other options have been exhausted, and only when we're confident we're on solid legal footing.
How the Forest Service responds to wildfires and manages them is perhaps the paramount issue facing our National Forests today. The idea that the agency should plan ahead for fires doesn't just make good common sense—it makes sound legal sense.
Fighting Bad Bills
We've taken our lumps over these first months of the Trump administration. I certainly don't want to make light of the damage that's already been done.
But the real fight has yet to be decided.
As I write, Congress is considering a host of bills that share one common goal—undermining the bedrock environmental laws that have protected our precious public lands over the past five decades.
I'm happy to report that, to date, none of these disastrous pieces of legislation has become law. That, in and of itself, is a victory.
But this is no time for complacency. Those bills would essentially hand over our public lands to private interests. That would come at the expense of the rare and fragile creatures that depend on healthy forests. And it would come at the expense of you and me—all of us who depend on our National Forests for clean water, clean air and spiritual renewal.
The Republican lawmakers who are pushing this legislation are exploiting the public's fear of wildfires in their effort to wrest control of these lands. They argue that National Forests should be "actively managed" to reduce the threat of "catastrophic" wildfire. They say the forests should be thinned to rob fires of their fuel.
Never mind that fire is a natural and necessary component of our forests. Never mind that peer-reviewed study after study shows that thinning does virtually nothing to stop the advance of large wildfires in dry, hot, windy weather. (In fact, there's a whole lot of evidence showing that aggressive thinning increases the possibility of fire by encouraging the growth of fire-prone undergrowth and by allowing the wind to blow more strongly.)
For nearly three decades, FSEEE has worked diligently and successfully to derail ill-conceived legislation. We know how to use our insider connections to pressure legislators to do the right thing.
One of the bad bills currently being considered in Congress is HR 2936, the so-called "Resilient Federal Forests Act." It provides for clearcuts of up to 30,000 acres on National Forests with little or no environmental review, and it forbids legal challenges to those projects.
The bill is being sponsored by Bruce Westerman, an Arkansas Republican. Minnesota Rep. Rick Nolan, a Democrat, is a cosponsor of the bill. Why is Nolan supporting such a damaging piece of legislation? Maybe it has something to do with the fact that Westerman sits on two committees that are key in Nolan's quest to bring high-paying mining jobs to his constituents in the northeast corner of Minnesota.
In August, FSEEE took out a full-page ad in The Reader, a widely distributed weekly newspaper in Duluth, the largest city in Nolan's district. We called him out for his support of the bill, and called on him to withdraw that support.
Westerman's bill and many others would hollow out the Endangered Species Act, the National Environmental Policy Act, and weaken other landmark laws including the Wilderness Act. And they would prevent U.S. citizens from challenging their government when illegal logging projects are proffered.
We can't let that happen. We've held the line so far, but we face powerful foes. With your help, we'll do whatever it takes to stop these bills and other legislative threats that loom in 2018.
Let me say it as plainly as I can—we have one heck of a fight on our hands in the year to come. We will face battle after battle as the Trump administration, a cabinet replete with industry heavyweights, and arch-conservatives in Con-gress push their agenda of handing our public lands over to private interests.
We cannot give in to despair. We can—we must—redouble our efforts to protect our National Forests and other public lands. We work every day at FSEEE to do just that.
Thank you so much for your past support. Please make a special donation today and help us ensure that our public lands are kept secure in 2018 for generations to come.
Sincerely,
Andy Stahl
Executive Director
P.S. One of the most important things we do at FSEEE is use our inside connections and knowledge to ferret out unethical behavior in our federal land management agencies. Doing so requires time and resources. Your support is key in helping us remain ever-vigilant.
P.P.S. You can donate by calling us at (541) 484-2692, or online via our secure website at www.fseee.org. Thank you!

As the year comes to a close, we'd like to take a moment to share with you a few of the victories we've celebrated so far in 2016. A few of our achievements this year include:
Defeating Dangerous Legislation
Reining in the War on Wildfire
Keeping Helicopters Out of Wilderness Areas
Stopping the Lochsa Land Swap
We hope you will consider making a special year-end gift. Rest assured we spend every penny we receive doing our very best to protect your irreplaceable National Forests and other public lands for the American people and generations to come.
While our public lands continue to face many threats, it's important to remember that hard work and advocacy does indeed produce on-the-ground results.
Member Advocacy Defeats Bad Bill
Every year, it seems, there's a new monster to slay in Congress. Last year, it was the Orwellian-named "Resilient Federal Forests Act of 2015" (H.R. 2647). That particular legislation would have gutted the environmental laws put in place to protect our public lands from all sorts of harmful development. It would have turned back the clock at least 30 years.
We asked our members to contact Undersecretary Robert Bonnie, who oversees the Forest Service. They did just that—in droves. The pressure paid off. Early in 2016, H.R. 2647 died an ignominious death, despite the support of powerful anti-environmental legislators.
We've been at this long enough to know that you can never declare victory when trying to safeguard public lands from congressional mischief.
One thing's for sure. No matter what happens to bills like H.R. 2647, sooner or later more bad legislation will be in the offing. 
With your help, we'll remain vigilant and stop the political deals that would unravel our environmental laws or turn our public lands over to corporate interests.
Reining in the Wildfire Wars
In September 2015, as late-summer rains brought an end to a busy fire season in the Pacific Northwest, the Forest Service gave the go-ahead for a logging project that never should have happened.
For months, the lightning-sparked Wolverine Fire had smoldered in the remote mountains of Washington's Okanogan-Wenatchee National Forest. Then, just as the weather turned cool and wet, some Forest Service manager (we don't yet know who), approved a 50-mile-long, 300-foot-wide "community protection line" south of the fire. The Wolverine Fire never came within six miles of the line.
The line did nothing to stop the Wolverine Fire—nor will it stop future fires. In fact, it will actually increase the risk of fire by allowing invasive plant species to gain a foothold along the line.
What the Wolverine Fire line did do was provide timber—a lot of it—without the environmental reviews and public input that otherwise would have been mandatory. The line provided enough timber to fill almost 1,000 logging trucks, some of it, massive old growth.
This summer, FSEEE filed a lawsuit alleging that the Forest Service broke the law when it approved the Wolverine Fire community protection line.
Our lawsuit seeks to force the agency to rehabilitate the land torn asunder by the heavy equipment that was hastily deployed to cut the line before the fire went out altogether.
And our lawsuit seeks redress that would affect forests across the country. We are convinced that the regulation that allows the Forest Service to undertake major projects with no environmental review or public comment by declaring a fire emergency is in violation of the National Environmental Policy Act, which is the law of the land.
Every year, the Forest Service uses the same heavy-handed tactics to "fight" fires. They cut fire lines, they ignite backburns, they drop huge quantities of fire retardant. (Many studies show, by the way, that these tactics have little if any impact in stopping large fires.)
The FSEEE lawsuit seeks to force the agency to carefully examine the use of such tactics, and to ensure that when it fights fires, the Forest Service takes as light a toll on the land as possible.
With your help, we'll stop environmentally destructive projects that should not be allowed under the guise of "fire emergency."
Keeping Helicopters Out of Wilderness
Sometimes, a proposal comes along that just makes you shake your head. That was my reaction when we learned that the U.S. Army wanted to transform much of the North Cascade mountain range into a de facto military training zone.
Officials at Joint Base Lewis-McChord wanted to fly attack helicopters year-round, night and day, over some of the most spectacular stretches of mountains and forests on the continent.
We dug into the details of the proposal. Turns out the Army also wanted to practice landing maneuvers at eight particular locations. One of the proposed landing zones was near the iconic Pacific Crest Trail. Another was inside the congressionally designated Alpine Lakes Wilderness Area.
We used our contacts to spread word about the Army's scheme far and wide. The issue received national media attention. Conservationists and local residents and businesses were unified in opposition to the plan.
We're pleased to report that the Army abandoned its plans earlier this year. It's not easy to take on the U.S. Army, but we did. And with the support of our members, we won.
R.I.P. Lochsa Land Swap
For more than a decade, the Western Pacific Timber company has worked doggedly to trade 39,000 acres of heavily logged land for thousands of acres of healthy forests on Idaho's Nez Perce-Clearwater National Forest.
The scheme is a classic stumps-for-forests land exchange, and FSEEE joined other conservation groups in fighting it tooth and nail.
Last May, Idaho Sen. Jim Risch withdrew his support for the Lochsa land exchange after many of his constituents voiced intense opposition to the scheme.
"A critical mass of consensus is essential to resolving this issue," Risch wrote. "That does not exist and is not even close at this time. Until substantial consensus can be achieved, a legislated exchange is not an option I can pursue."
That's great news. But like a zombie in a B-grade movie, the Lochsa land exchange seems to be the Thing That Wouldn't Die. A Forest Service environmental review of the exchange remains officially "on hold."
We'll continue to monitor the Forest Service's stance on the exchange. And we'll fight any and all proposals to trade healthy public forestlands for clearcuts.
•••
Those are just a few of our accomplishments in 2016. Every day at FSEEE, we work our hardest to ensure that our public lands legacy remains intact for generations to come.
Thanks to you for your encouragement and your support. Please make a special year-end donation today, and join us in making sure 2017 is a year of many more victories for our National Forests!