Let's have a sensible, ecologically sound firefighting policy for our public lands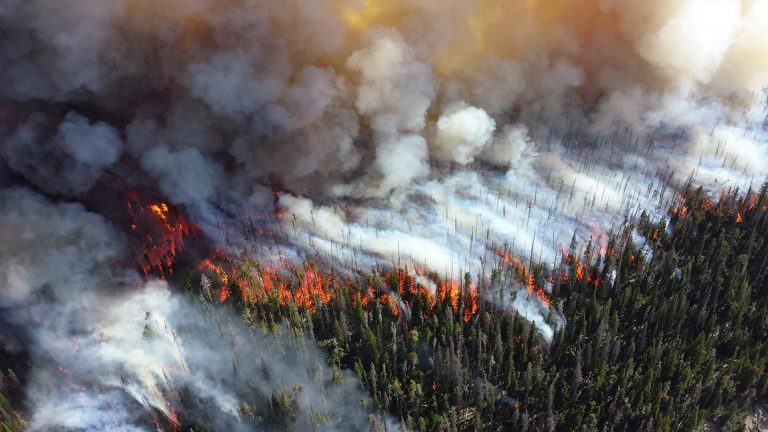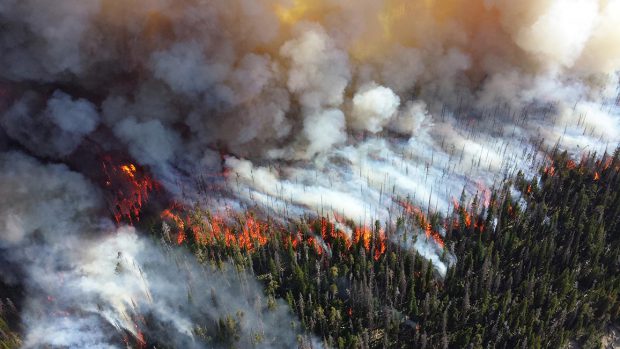 When a large wildfire burns on a National Forest, those charged with fighting it do pretty much anything they can to stop it.
They drop thousands of gallons of fire retardant from helicopters and air tankers. They light back burns to rob the advancing blaze of fuel. They use bulldozers and logging equipment to carve fire breaks that snake through once-pristine forests. Money is no object.
In a real sense, it's a war.
And in many cases—indeed, in almost all of them—the fire burns anyway. It burns until it reaches a natural break like a rocky ridge or lake, or until autumn rain and snow brings an end to the fire season.
In case after case, when the smoke clears, the scene is one of destruction. And in case after case, much of that destruction is caused by the firefighting effort itself.
Some of this "collateral damage" is unavoidable. Much of it, however, is pointless.
This must stop. That's why FSEEE is launching a campaign to establish sensible, ecologically sound rules and guidelines for firefighting efforts on public lands.
Won't you help us end the wildfire wars? Please donate today and protect our National Forests from heavy-handed firefighting efforts that do nothing to stop large fires, but do significant harm to the health of our wild and remote landscapes.
The Environmental Cost of the Wildfire Wars
Last summer, lightning sparked a wildfire deep in the Cascade Mountains of Washington state. It burned for weeks, spreading slowly. To their credit, Forest Service fire managers pretty much let the blaze burn on its own, fighting it only where it threatened structures.
The blaze, called the Wolverine Fire, stalled in early September, when the first rains of the wet season began to fall.
That's when some Forest Service official—we don't yet know who—gave an order for crews to blast a 50-mile-long, 300-foot wide "community protection line" through a broad swath of the Okanogan-Wenatchee National Forest, including areas deemed critical for the threatened spotted owl.
Rank-and-file employees with the National Forest, including wildlife biologists, were appalled. "This is essentially a … ground-based timber sale without any best management practices to minimize resource impacts," a fisheries biologist wrote to her superiors. "Why don't we STOP and THINK and PLAN?!" one botanist wrote. "There is NO emergency."
Guess what? The fire, which had all but died when the loggers did their work, never came within six miles of the line. But the line did produce enough timber to fill almost 1,000 logging trucks.
FSEEE Fights Fire with Fire
The Wolverine Fire offers a particularly egregious example of a much more widespread problem. When a fire sparks in a National Forest, the laws that are there to protect our public lands go right out the window.
FSEEE believes that the Forest Service broke the law when it cut the Wolverine Fire line—in particular, NEPA, the National Environmental Policy Act. NEPA requires public land managers to conduct a thorough environmental review and to seek public comment before undertaking major projects on National Forests and other federal land.
In defending its actions, the Forest Service points to an agency regulation that grants officials authority to undertake "major" projects without a NEPA review in the case of a fire emergency. We believe that regulation itself violates NEPA.
Fire, of course, is a natural and needed element of our National Forests. Fires burn through our forests every year, as they have for millennia. And every year, fire bosses deploy the same heavy-handed tactics: They drop fire retardant, they light back burns, they bulldoze fire lines.
This summer, FSEEE filed a lawsuit challenging the construction of the Wolverine Fire line and other major projects that the Forest Service sanctions under the guise of "fire emergency." Our lawsuit seeks to require the agency to conduct a thorough NEPA review of these actions and to establish and follow sound environmental practices when it fights fires.
With your help, we'll make sure that agency officials never again get away with using "fire emergency" as an excuse for conducting environmentally damaging projects that otherwise would never pass muster!
With your help, we'll make sure the Forest Service follows the law!
With your help, we'll call out any and all efforts to use the public's fear of fire as cover for environmentally dubious undertakings such as the Wolverine Fire's 50-mile-long logging project!
Please, make a special donation today and help FSEEE put a stop to the wildfire wars! The health of our National Forests hangs in the balance.